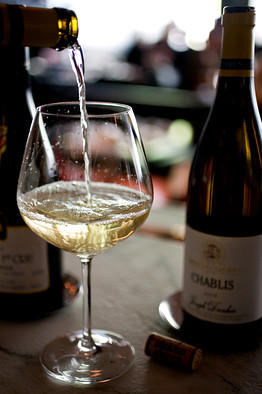 FRANCE

Producer

Country

Bottle

22. Les Roucas

Languedoc - South of France

France

€24.00

Chardonnay Grapes 100%
Notes of green apple and pear with great freshness and a clean finish.

28. Macon Lugny

Lupe-Cholet - Burgundy

France

€39.50

Chardonnay Grapes 100%
Creamy and smooth, this Macconais Chardonnay offers notes of stone fruits and white flowers.

31. Chablis

Chateuax de Viviers - Chablis

France

€49.00

Chardonnay Grapes 100%

One of the best in the world. This Chablis is full of citric fruit aromas with amazing structrre and that telltale Chablis minerality!

36. Le Bosq Blanc

Vin de France - Languedoc

France

€25.00

Sauvignon Blanc and Grenache Blanc

Medium-bodied and fresh, the wine offers notes of ripe peach and apricot.

40. Bordeaux Blanc

Blaison Timberlay - Bordeaux

France

€27.50

Sauvignon Blanc 100%

Crisp, fresh and zingy. Notes of lemon & lime are backed up with fantastic mouth-watering freshness.